ASHRAE Handbook
The ASHRAE Handbook is published in a series of four volumes, one of which is revised each year, ensuring that no volume is older than four years. Each volume is available in I-P (Inch-Pound) or SI (Systeme International) units of measurement.
ASHRAE Members: Looking for your membership copy of the 2018 Refrigeration PDF?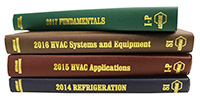 Go to the ASHRAE Technology Portal, sign in, and click the Handbook icon. Full and Associate ASHRAE Members (not including Developing Economy Members) can choose PDF downloads as one of their membership benefits when they join or renew.
ASHRAE Technology Portal
ASHRAE Handbook Online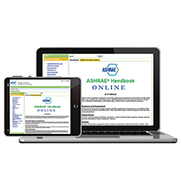 Subscribe to ASHRAE Handbook Online. A one-year subscription gives you
Access to updated content between print revisions
Extra information not available elsewhere (e.g., case studies, sidebar discussions)
Ability to search over 3,600 pages of important technical information
Copy, paste and print functions
Access to both I-P and SI editions of all four current volumes
Sound and video clips to better demonstrate processes and applications
Spreadsheets to perform calculations
Software or source code not otherwise published by ASHRAE
ASHRAE Handbook Online